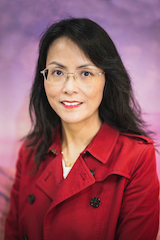 Ms Lee Yi Ying (2010 – Now) – Exploration for the higher and the further
Principal Lee graduated from The Chinese University of Hong Kong, where she received her BA, MA and MEd (Education Administration) degrees.
Developing students who are bilingually competent
Since the MOI fine-tuning policy was introduced in 2010, Principal Lee has dedicated herself in establishing English learning and teaching strategies and creating an English-rich environment, aiming at bringing the school into a new era of being an EMI school. Meanwhile, Principal Lee emphasizes the promotion of Chinese language and culture. To this end, she promotes Putonghua as the medium of instruction in Chinese Language in junior forms. These show that she has the vision of developing students into competent users of both Chinese and English. Her success can be proved by students' excellent results in both subjects in the public examinations in recent years.
Extending the KTL reach and reestablishing the Kindergarten Section
Principal Lee has been keen on guiding teachers to undergo curriculum refinement for academic excellence. With her leadership and curriculum vision, the school's focus lies on self-directed learning, concept internalization and students' presentation of learning outcomes. All these have molded the school into one which is proactive and progressive. Being the Head Principal of both the Secondary and the Primary Sections, she led the Primary Section to transform into an EMI primary school in 2011. In 2017, Principal Lee shouldered the responsibility to reestablish the Kindergarten Section. The three sections are in operation concurrently again while the same True Light values are shared among teachers and students of the three sections. The collaboration and unification are stronger than ever.
Nurturing future leaders through whole-person development
Upholding the traditional values of True Light and Christ's notion of whole-person development, Principal Lee also caters for students' talent and values development, for these are essential qualities of our future leaders. In 2011, Principal Lee reconstructed the framework of the school' extra-curricular activities by setting up an academy system, where there are Academy of Art, Academy of Music, Academy of Sports, etc. In terms of gifted education, she promoted our very own school-based framework 'Sight, Heart, Mind'. As for various mass learning programmes, Principal Lee introduced 'Page to Stage', which is a project where S1 students stage an English musical based on classic works, Variety Show for the school anniversary, Joint-Section Visual Art Exhibition, etc. All these are platforms for students to showcase what they have to offer.
Bettering the school campus for a learning environment of high quality
Principal Lee makes good use of resources to develop a well-equipped campus of a traditional exterior. De Xin Academy, which is where Chinese culture is promoted, is situated in the basement, while on the second floor there is our Performing Arts Theatre, which is a venue of music and drama performances. Other rooms developed by Principal Lee include Self-study Room, Multimedia Workstation, Interactive Learning Hall, etc., which can cater for learning needs and provide a top-notch learning enviornment.
Walking the talk and contributing to the community
Principal Lee has contributed much to various bodies in society, particular in the education field. She has set an example epitomizing what it means by 'being salt and light'.
A. District-wide
Member of Kowloon City District Youth Network Advisory Committee
B. True Light
Secretary of The Board of True Light Scholarship
Executive Committee Member of True Light Villa Day Care Centre for the Elderly
Advisor of The Alumni Association of True Light
School Manager of True Light Girls' College
School Manager of Kowloon True Light School (Primary Section)
School Manager of Kowloon True Light School (Kindergarten Section)
C. The Church of Christ in China
Executive Committee Member of the Hong Kong Council of the Church of Christ in China
Member of CCC Secondary School Heads Association and the Task Force for Principals' Training
School Manager of CCC Heep Woh Primary School (Cheung Sha Wan)
D. Region-wide (Hong Kong)/ Institutions
Chairman of The Hong Kong Subsidized Secondary Schools Council
Advisor of the Organizing Committee of Hong Kong Book Fair
Part-time lecturer of courses for middle managers, senior managers and aspiring principals and Mentor of Action Research of Aspiring Principals, CUHK, HKBU & EdUHK
Member of HKU Court
Member of Board of Control Subsidized Schools Provident Fund
Chairman of Subsidized Schools Provident Fund Investment Sub-Committee
Member of Curriculum Development Council
Member of the Management Board of the Hong Kong Institute of Educational Research
Member of Secondary School Places Allocation Committee
Organizing Committee of National Day Banquet for Education Section
Hong Kong Council of Volunteering
Task Force on Review of NET
Principal Lee sets diligence as an essential element in operating the school, while using her genuine heart to nurture students of Kowloon True Light. She dares to face up to challenges, innovate new possibilities while upholding traditional values of True Light. She is a role model of all True Light bearers.